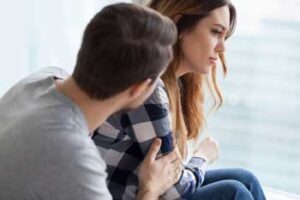 The effects of abortion on individuals and families can have long-term effects that can leave a person hurting for years.  The feelings of loss and grief can stay with you for a long time.
"If you have had an abortion in the past and nobody else knows about it, it may help you greatly to share about your feelings in a safe and confidential space.  If you keep the recurring feelings of shame, regret, depression, self hatred, fear of being found out, anxiety and other negative emotions to yourself then you would benefit from one of our programs," said Becky Morales, Hope Manager for RealOptions.  "It's about learning how to forgive yourself and giving yourself time and space to grieve."
The advocates at RealOptions are available to offer help and support that can lead to healing and a sense of freedom. According to Morales, RealOptions offers three ways you can find healing and hope.
The first is our Hope Support Group that meets the third Thursday of every month from 6:30 to 8:00 PM in the conference room at our offices located at 1671 The Alameda, San Jose. This confidential group is open to all who have been impacted directly or indirectly by abortion, miscarriage, or pregnancy loss. The Hope Support Group is a safe, compassionate and non-judgmental place to explore complex emotions of loss and provides tools and strategies for healing. This is a small group setting with a maximum of 6 participants in which confidentiality is required.
The second way is through Rachel's Vineyard's Retreats. This is a weekend retreat that takes place four times a year in the Bay Area. This international ministry is a confidential, safe place to share your story and discover God's heart of compassion and mercy. The retreat is a non-denominational, interfaith environment offering biblical principles and perspectives for restoration. Morales shares, "I had two abortions in my past for which I carried a lot of emotional pain. After I attended this retreat I felt a sense of real freedom."
The third way is an online healing pathway.  This allows patients to build support, explore emotions, share your story, and identify loss in the privacy of your own home.
If you are searching for a healing pathway after abortion, miscarriage or pregnancy loss please contact Becky Morales by emailing her at [email protected]. RealOptions will help you find the courage to face your past and embrace a future of hope, healing and freedom.
400 30th St #401
Oakland, CA 94609
(510) 891-9998
801 Brewster Ave Unit 210
Redwood City, CA 94063
(650) 261-9115
1671 The Alameda #101
San Jose, CA 95126
(408) 978-9310
12 N White Rd
San Jose, CA 95127
(408) 272-5577
33523 Western Ave
Union City, CA 94587
(510) 487-4357