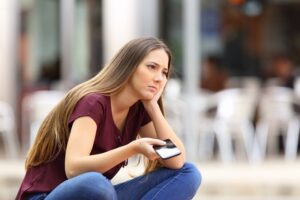 The most obvious sign of being pregnant is missing your period. But there are other signs according to Sandra Rowe, Nurse Manager at the Union City RealOptions Medical Clinic. "These signs include sore breasts, nausea, vomiting, and frequent urination," said Rowe. "Some women will also have a sensitivity to odors and/or increased saliva."
For many women, the first option is an over the counter home pregnancy test.  When using a home pregnancy test it is important to follow the manufacturer's directions accurately. The first morning urine specimen is the best because it has the greatest concentration of Human Chorionic Gonadotropin (HCG), which is a hormone produced during pregnancy and is the substance tested for in a commercial pregnancy test. These tests are more effective after the first missed period.
RealOptions offers pregnancy testing with a registered nurse that uses medical grade and high quality pregnancy detection testing and gives a signed verification for a positive test. "If a woman is taking a pregnancy test at home it really matters where she bought the test and how fresh it is," said Rowe.
"RealOptions is a very good confidential and non-judgemental place to get your testing done and to speak with a caring nurse while giving you a place to stop and really listen to your own heart, find out what it is you feel you need to do, and process your own thoughts apart from all of the pressures that come from family members, friends, and even the father of the baby," said Rowe.
We also provide consultations on abortion, adoption, and parenting in a safe place to discuss and think about your future plans.
"RealOptions offers confidential medical care that includes STD testing and many of our patients qualify for free prenatal care", said Rowe. "At the appointment we first offer a session with an Advocate who helps you talk through the situation you find yourself in and helps clarify what kind of resources you may need. Then with a positive pregnancy test we calculate the weeks pregnant to provide an ultrasound after six weeks to assist in confirming your pregnancy".
If you are worried about the prospect of facing a pregnancy decision RealOptions has the resources to help you through the process including a confidential and accurate pregnancy test. Call or schedule an online appointment at one of our convenient locations of RealOptions Obria Medical  Clinics.
400 30th St #401
Oakland, CA 94609
(510) 891-9998
801 Brewster Ave Unit 210
Redwood City, CA 94063
(650) 261-9115
1671 The Alameda #101
San Jose, CA
(408) 978-9310
12 N White Rd
San Jose, CA
(408) 272-5577
33523 Western Ave.
Union City, CA 94857
(510) 487-4357