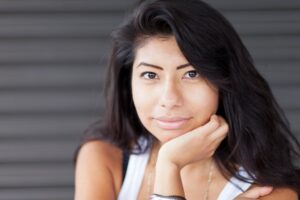 From Crisis To Confidence. When a woman faces an unexpected pregnancy it can be frightening.  You may feel overwhelmed which is perfectly normal. RealOptions Obria Medical Clinics are here to help you every step of the way.
"At the beginning, many of our patients are scared," said Christine Kulle, a Nurse Practitioner and Certified Midwife at RealOptions.  "By the end of the first visit they have a plan and are feeling a lot better about what they want to do."
When you come to RealOptions you will get a pregnancy test and meet with a patient advocate to review your pregnancy decision.  If you have a positive pregnancy test you are offered an ultrasound as part of our standard of care to confirm the viability of your pregnancy. "We provide holistic care and options consultations," said Kami Miranda-Halverson the Clinic Operations Manager at RealOptions and RN Obstetric Ultrasound Sonographer.
There is a lot of education that is provided at RealOptions Clinics.   "All of the nurses and I are very passionate about helping women get the care they need and we look at every angle," said Kulle.  "We include the husband, or boyfriend, or family, and we include their social history. We want to nurture their emotional health as well."
RealOptions has a team of experienced advocates and medical professionals to help you make the right choice and follow a specific plan of action that will work for you. Once you take away the mystery of what to expect and begin to follow your plan the fears you may be feeling are resolved.  You can be confident in knowing what to expect. If you are worried about the prospect of facing an unexpected pregnancy you may find it helpful to meet with one of our patient advocates. Call or schedule an online appointment at one of our convenient locations.
400 30th St #401
Oakland, CA 94609
(510) 891-9998
801 Brewster Ave Unit 210
Redwood City, CA 94063
(650) 261-9115
1671 The Alameda #101
San Jose, CA
(408) 978-9310
12 N White Rd
San Jose, CA
(408) 272-5577
33523 Western Ave.
Union City, CA 94857
(510) 487-4357