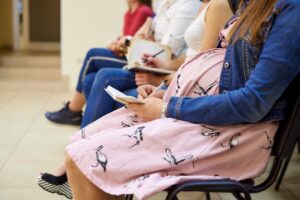 Attending college when you are pregnant or parenting can initially be a very daunting experience.  Unfortunately, not all colleges and universities offer support services for pregnant and parenting students.   RealOptions on the other hand has made it a point to become a beacon of hope and light for those students who have made the decision to continue their education despite their circumstances.
In September of 2008, RealOptions Medical Clinics partnered with students on the San Jose State Campus and created the Campus Pregnancy Support Team.  This is a student led service club that exists to encourage academic success for pregnant and parenting students.  80% of the club consists of compassionate, caring, committed SJSU students and 20% are concerned contributors and service minded friends.
"We serve the pregnant and parenting mothers and fathers on campus," said Letitia Campbell, the RealOptions College Campus Outreach Manager. "We have created a group called "Spartan Mamas" under the CPST umbrella.  As a club we meet twice a month to discuss issues that have been brought to our attention by the Spartan Mamas or any other matters on campus where we can help make an improvement for the students. We also provide a gathering place for the Spartan Mamas to come together and network."
In 1972 the federal government passed Title IX which prohibits sexual discrimination in education.  This law had an immediate effect on athletic departments in the schools by requiring resources to be spread equally between men's and women's sports. More and more advocates for pregnant women and new parents have used Title IX to get schools to provide services and accommodations equal to that of other students.
"So basically, schools are required to provide pregnant  and parenting students, and  students with related conditions such as childbirth, with at least the same special services as it provides to students with other temporary conditions," reported Campbell.  "Over the summer we were able to help out one of our Spartan Mamas as she decided to continue her education although she was due to deliver her baby in September.  After connecting her with the Title IX representative on campus, our Spartan Mama was able to set up a meeting to discuss her circumstances.  They worked together to create an educational plan that allowed her to take time off from school to have her baby and be able to return to school with the same standing that she had when she left.  There were no penalties, she was able to make up all her work, and now she is on track to graduate in the Spring of 2019 with her baby girl watching!" said Campbell.
" Students like Fatima said," I am extremely grateful that RealOptions has been there for me since I found out I was pregnant. They were part of my journey – all the way!"  " There are many challenges the students are facing as they transition into this new role. We provide a space for the moms to get together and give advice to one another regarding parenting, time management, and personal issues that they may be dealing with.  It's a good group to have!" said Campbell.
If you have questions about your pregnancy or going to school as a new mother, RealOptions will provide you with real answers.  "It's a great service," said Campbell.  "I recommend this club to any pregnant or parenting student on campus.
RealOptions Obria Medical Clinics have excellent medical services and experienced advocates and nurses to help you with emotional, physical, educational, and practical support needs.
Call or schedule an online appointment at one of our convenient locations.
400 30th St #401
Oakland, CA 94609
(510) 891-9998
801 Brewster Ave Unit 210
Redwood City, CA 94063
(650) 261-9115
1671 The Alameda #101
San Jose, CA
(408) 978-9310
12 N White Rd
San Jose, CA
(408) 272-5577
33523 Western Ave.
Union City, CA 94857
(510) 487-4357