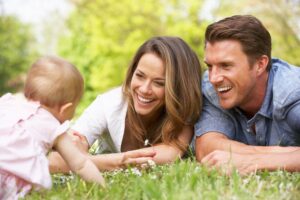 "There are no words to describe just how grateful I am for the parents I chose. They are angels sent from heaven for my baby." Cathy came to the RealOptions Clinic as a referral. "My hairdresser mentioned it to Mikelle who works at RealOptions who then reached out to me."
"Everyone was so nice at RealOptions", said Cathy. "I was a mess and they were very comforting and supportive when I found out I was seven months pregnant. I knew I couldn't give my daughter the life that I wanted her to have."
With the open adoption option Cathy was able to make the final decision on who would raise her child and now has a great relationship with the adoptive family. She goes to see her daughter at least once a month. The adoptive parents were in the room when she was born.
"It was a beautiful scenario said Lisa, the supervisor at the East San Jose Clinic of Real Options. "Not only does she visit the baby, but they also allow the biological grandparents to visit. It is really a wonderful story because the adoptive parents helped Cathy get through job training.  It is just a beautiful relationship. The adoptive parents embrace her as an extended part of their family.  "They have been so kind to me and love my baby as if it was their own blood. I chose an open adoption and they have respected that so much. They consistently send me pictures and videos without me having to ask, said Cathy. "Even though this whole process has been the most difficult thing that I've ever been through I wouldn't change it for the world. Seeing how much joy my baby has brought into their lives brings joy to me. Adoption isn't easy, but seeing how much my baby is loved makes it worth it. "
For over two decades, National Adoption Month has been promoted and celebrated every November in communities across the country.   RealOptions provides you with a team of experienced advocates, medical staff, and support services to help you make choices that affirm your goals and dreams and follow a specific plan of action that will work for you.
If you are concerned about the prospect of facing an unplanned pregnancy, or if you are thinking adoption might be the way to go, you may find it helpful to meet with one of our Patient Advocates. Call or schedule an appointment at one of four convenient locations of RealOptions/ Obria Medical Clinics or go to www.realoptions.net.
400 30th St #401
Oakland, CA 94609
(510) 891-9998
801 Brewster Ave Unit 210
Redwood City, CA 94063
(650) 261-9115
1671 The Alameda #101
San Jose, CA 95126
(408) 978-9310
12 N White Rd
San Jose, CA 95127
(408) 272-5577
33523 Western Ave
Union City, CA 94587
(510) 487-4357