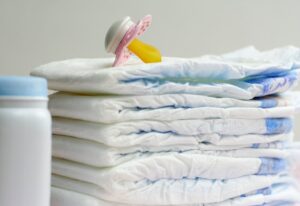 There is more to women's health clinics than medical services.  RealOptions Obria Medical Clinics offers pregnancy testing, STD testing and treatment, ultrasound imaging, and prenatal care but they offer so much more including support before, during, and after a patient's baby is born.
"We offer solutions," said Nelly Khayat,  Patient Services Manager at RealOptions Obria Medical Clinics in San Jose.  "We offer well-rounded holistic services regardless of their choice." Beyond medical services we offer support for your physical and practical needs from maternity clothes to baby clothes; from baby food and formula to diapers; from education to referrals for any issues you may face.
"We ask our patients how they are doing and make sure everything is going well with them after they have their child. We offer childbirth and parenting classes and follow up with them if they have had a loss, whether it be an abortion or pregnancy loss, like a miscarriage."
"When the baby is born we give them a layette full of new items to say congratulations," said Khayat. "The layette includes a lot of the items the moms need for the baby when they first come home like bottles, toys, diapers, and wipes. It includes outfits for the baby to wear and a blanket."
ReaOptions Obria Medical Clinics is there for the family long after the birth of the child including supplying items for the baby's physical needs.  "You know I find it so rewarding to see the young ladies or families" Khayat continued. "One patient mentioned to me how happy she was to be able to pick out clothing for her child and not be concerned about how much it costs, but just to be able to pick out items that she needed for her child."
"We also have people who donate baby food and formula so there is someplace you can go and get quality items for your baby that you know will be safe and clean," said Khayat.  "It's a big relief to parents. The parents are very thankful when they come in and receive items for their babies.  They are able to pick out what they need and not have to worry about whether they can afford it or whether it is going to be taken away from their budget to be able to give their children nice clothing."
"Our clothing mostly supports them up through the first two years of life," said Khayat. "But we can refer them to different agencies within our counties that can help with clothing and food beyond that. And we are happy to talk to them about any problems they have with their children or challenges of being a parent."
RealOptions Obria Medical Clinics has a team of experienced advocates to help you with more than your medical needs. They can help you with emotional support and your physical and practical needs as well. Call or schedule an online appointment at one of our convenient locations.
400 30th St #401
Oakland, CA 94609
(510) 891-9998
801 Brewster Ave Unit 210
Redwood City, CA 94063
(650) 261-9115
1671 The Alameda #101
San Jose, CA
(408) 978-9310
12 N White Rd
San Jose, CA
(408) 272-5577
33523 Western Ave.
Union City, CA 94857
(510) 487-4357