Telehealth Video Chat & Text
RealOptions Obria Medical Clinics telehealth video chat & text app connects you in real time with trained nurse educators. It is free and confidential.
We provide easy access to our on-call medical team via text or video chat during business hours to provide you with information, insight, and ultimately an appointment at our clinic if needed during our business  hours.
Telehealth allows patients to connect securely with nurses in real time online. The Obria Direct app leverages the latest technology and is hosted on HIPAA-compliant infrastructure, meaning that your privacy is protected.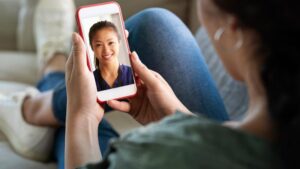 The app offers three features, so you can choose how to engage with the nurses at RealOptions who can provide you with medical support. You can engage via text message chat, a video or voice chat, or you can schedule an in-person appointment at your nearest RealOptions clinic. More information is provided below.
Text message chat
To speak with a nurse via text message, hit the top right "Text Chat" button, and the app will connect you to a nurse. If no nurses are available, you can leave a message and one will get back to you at their next available time slot between 9 AM and 5 PM on the next weekday.
Nurses can answer questions about:
STDs
Pregnancy
Women's Health
Reproductive Health
Video and voice chat
It is entirely up to you how you interact with our nurses. If you'd like to have a voice or video chat with a nurse, you can hit the top left "Video Chat" button. You'll be connected to a nurse if one is available; if not, you can leave a message, and a nurse will get back to you at his or her next available time slot between 9 AM and 5 PM on the next weekday.
Appointment scheduling
You may also use the Obria Direct App to make an appointment at one of our clinics.
Here's how you do that:
On the home screen, hit the bottom left circular button "Visit Us".
To find the nearest clinic to your location enter your zip code or city in the search bar.
You can adjust the sliding scale to narrow down your search by distance from your location.
As clinic locations that match your search parameters appear, click on your desired clinic.
Depending on the options provided for your desired clinic click either the "call us" or the "schedule appointment" button and follow instructions.

If you choose the "schedule appointment" option you'll be able to request an available time slot from a selection of available services. Once you choose a time our receptionist will contact you via email with a confirmation or notification for the best available time.
Download "Obria Direct" to locate a nearby clinic, video, or text chat with a nurse, and even schedule an appointment through the convenience of your phone. Plus, it's 100% confidential, free, and HIPAA-compliant.
Find Obria Direct on the Apple Store or on Google Play. Book your appointment online now. It's easy!  We will do everything we can to provide you with excellent care!
Emergencies
If you think you have a medical or psychiatric emergency, call 911 or go to the nearest hospital.The Obria Direct app does not provide emergency medical or psychiatric aid or intervention.
If you need after hours support call our 24/7 hotline at 1.800.712.4357 or Text Helpline to 313131.