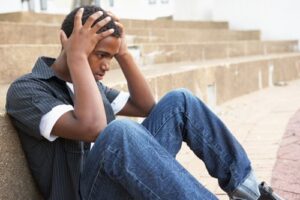 She's Pregnant, Now What
You just found out your girlfriend is pregnant. You probably have many questions and concerns. An unintended pregnancy involves challenging decisions that affect you and those close to you for the rest of your life. She is weighing her options. What is your part?
You have five basic choices:
Parent the child with your partner

Help create an adoption plan

Suggest your partner get an abortion

Leave the decision up to your partner

Get out
As you face the above choices, we recommend these principles to guide you through your decision:
Listen: This situation is difficult for both of you – you have a big decision to make. Listen to how she is feeling and keep the lines of communication open between the two of you.
Communicate: Don't bottle up your emotions. Talk to your girlfriend about how you are feeling and what you think. Talk to adults that you trust and people who will support you. Seek good advice. Be honest.
Do your research: Gather all of the information you can so that you can make your best choice. Make sure that you are knowledgeable about every choice with its pros and cons. Make sure that your partner is making an informed decision that is safe for her. Use our website as a resource to educate yourself on your choices.
Stay: Actions speak louder than words. There is so much value in your mere presence in the situation. She needs your support now more than ever. She may be the one who is pregnant but you have both brought a new life into existence. Regardless of where the future of your relationship lies, you are responsible for this pregnancy too. Stay calm. Running away will not make it easy for either of you.
Don't Pressure: You may have different opinions about the path that you should take. It may not be easy, but your goal should be to work together to come to the best decision for everyone.
Real Options Obria Medical Clinics seek to be resources for both men and women. We truly care about your situation. We want to provide a safe place for you to ask questions and receive wise council for a decision of this magnitude. Feel free to call our 24 hour hotline  1-800-712-4357 if you have immediate questions or text "helpline" to 313131. We have convenient locations. Schedule your appointment today!
400 30th St #401
Oakland, CA 94609
(510) 891-9998
801 Brewster Ave Unit 210
Redwood City, CA 94063
(650) 261-9115
1671 The Alameda #101
San Jose, CA
(408) 978-9310
12 N White Rd
San Jose, CA
(408) 272-5577
33523 Western Ave.
Union City, CA 94857
(510) 487-4357
Resources:
https://www.realoptions.net/options/men/
http://alternativespregnancycenter.org/for-guys/