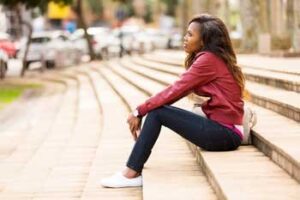 At RealOptions we provide all the information you need to make informed decisions when facing an unplanned pregnancy. If you are contemplating an abortion, our trained staff and nurses are here to educate you about all your choices including procedures and risks as well as other barriers to continuing a pregnancy.
There are many factors to consider when determining what is right for you during your pregnancy including knowing the different methods of abortion. The method used is primarily determined by how far along the pregnancy has progressed. Before considering the options, it is recommended that you obtain an ultrasound to determine if the pregnancy is viable (uterine, non-ectopic pregnancy) and for accurate pregnancy dating.
During the first trimester the options include either a medication abortion or a surgical abortion. A medical abortion is non-surgical and uses a medication to terminate the pregnancy. According to the American Pregnancy Association abortions performed in the first three months of pregnancy include:
Mifepristone and Misoprostol: a medical abortion procedure used up to the first 10 weeks of pregnancy. It can also be referred to as RU-486, the abortion pill, and mifeprex. It should be noted that in recent years a protocol for reversal of medical abortions has been developed. "The abortion pill reversal process involves a large influx of progesterone into the pregnant woman's system. This is due to the fact that the first pill, mifepristone, blocks progesterone from being absorbed by the uterus. Mifepristone blocks where progesterone would normally be absorbed, so an influx of progesterone can outcompete for the available binding spaces." 1
Manual Vacuum Aspiration (MVA): a procedure used as early as 3 -12 weeks since the last period. Considered less invasive with only a local anesthesia being used on the cervix.
Aspiration: a surgical abortion procedure used to terminate pregnancy up to 16 weeks from the last period. It can also be referred to as suction curettage, dilation and curettage (D & C) or vacuum aspiration." 2
Dilation & Curettage (D & C): a surgical abortion procedure used to terminate a pregnancy up to 16 weeks gestation. It is also referred to as suction curettage or vacuum aspiration.
Dilation & Evacuation (D & E): a surgical abortion procedure used to terminate a pregnancy after 16 weeks gestation.
Abortions preformed during the third trimester are referred to as late-term abortions and are not legal is some states except under specific medical conditions. Procedures for late term abortions include:
Dilation and Extraction: a surgical abortion procedure used to terminate a pregnancy after 21 weeks of gestation. This procedure is also known as D & X, Intact D & X, Intrauterine Cranial Decompression and Partial Birth Abortion." 3
All abortion procedures come with a certain amount of risks. At RealOptions we provide abortion consultations, pregnancy testing, and ultrasound exams so you can make an informed decision. You have a right to get all the facts. Take the time you need to equip yourself to make your best decision. We are committed to providing you with the information and caring support you need. Call or schedule an appointment at RealOptions Obria Medical Clinics or visit www.realoptions.net.
1 – "Abortion Pill Reversal," American Pregnancy Association, https://americanpregnancy.org/unplanned-pregnancy/abortion-pill-reversal/
2 – "Abortion Procedures," American Pregnancy Association, https://americanpregnancy.org/unplanned-pregnancy/abortion-procedures/ (April 7, 2017)
3 – "Abortion Procedures," American Pregnancy Association, https://americanpregnancy.org/unplanned-pregnancy/abortion-procedures/ (April 7, 2017)
400 30th St #401
Oakland, CA 94609
(510) 891-9998
801 Brewster Ave Unit 210
Redwood City, CA 94063
(650) 261-9115
1671 The Alameda #101
San Jose, CA 95126
(408) 978-9310
12 N White Rd
San Jose, CA 95127
(408) 272-5577
33523 Western Ave
Union City, CA 94587
(510) 487-4357